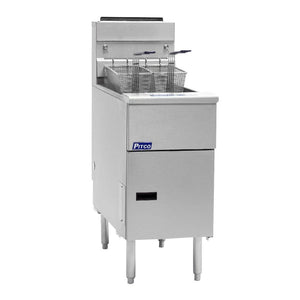 PITCO SG14S 40-50 lb. FLOOR GAS FRYER
For High Production Gas single standalone frying specify Pitco Solstice Gas Models SG14, 14R, 14T or SG18 tube fryers with the patented Solstice Burner Technology. The dependable blower free atmospheric heating system provides fast recovery to cook a variety of food products.  
The Solstice gas fryer comes standard with a millivolt thermostat with a thermo-safety pilot, high temperature safety limit switch. The unique Solstice burner and baffle design increases cooking production, lowers flue temperature and improves working environment compared to previous models. 
STANDARD FRYER FEATURES & ACCESSORIES

Tank - mild steel construction

Cabinet - stainless front, door and sides

Solstice Burner Technology, No blower or ceramics

Millivolt Thermostat (T-Stat) 200ºF-400ºF (190ºC-93ºC CE)

Themo-Safety pilot with built in regulator.

High Temperature safety limit switch

Heavy duty 3/16" bottom door hinge

1 ¼" (3.2 cm) Full port drain valve for fast draining

Separate Manual gas shutoffs, for front servicing

Integrated flue deflector

9"(22.9cm) adjustable legs, easier access to clean

Tube rack, allows crumbs & debris into cool zone

Removable basket hanger, requires no tools

Drain Line Clean out rod

Drain extension

Fryer cleaner sample packet