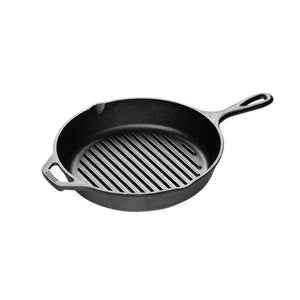 Lodge L8GP3 10.25" Cast Iron Grill Pan
Put restaurant stripes on your grilled favorites like a pro. The Lodge round grill pan's ribbed bottom lets you keep food from simmering in fatty drippings for lower fat cooking and is seasoned and ready to use.
Foundry seasoned, ready to use upon purchase.
Use on all cooking surfaces, grills and campfires.
Oven safe.
Saute, sear, fry, bake and stir fry to heart's content.
Made in USA.