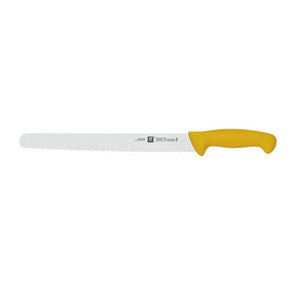 Zwilling J. A. Henckels Twin Master 11.5" Carving Knife - 32102-300
The professional' choice: TWIN Master meets all requirements of strict hygiene, safety and quality regulations demanded in a commercial kitchen. Featuring a high initial cutting performance, long-lasting cutting properties and ergonomically shaped handles, TWIN Master provides the ideal selection of knives for a demanding kitchen. Dishwasher safe. NSF listed. Made in Spain.
Long slim knife with a strong, semi-flexible blade and fine cutting edge enable clean slices with minimal strokes. Excellent to cut roasts and hams or large fowl like turkey.
German high carbon nitrogen-enriched NO STAIN steel
One-piece precision-stamped blade for a lighter-weight knife without sacrificing strength
57 Rockwell hardness
Enclosed tang
Hardened blade starts sharper, stays sharper longer & has superior resilience
Precision-honed and laser-controlled edge to ensure ideal cutting angles for sharpness & durability
Non-hygroscopic safe-grip (won't absorb liquids)
Moulded polypropylene handle safe up to 100 degrees C/212 degrees F
FDA & NSF approved
Dishwasher-safe
Made in Spain