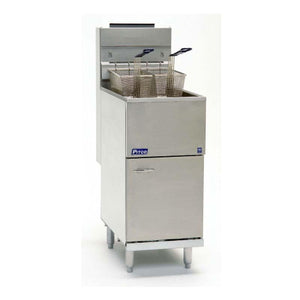 PITCO 40C+ 40-45 lb TUBE FIRED ECONOMY NATURAL GAS FLOOR FRYER
Keep up with all your deep-frying needs with the Pitco 40C+ 40-45 lb Tube Fired Economy Natural Gas Floor Fryer.

Exceptional Performance & Capacity
This free-standing deep fryer has an oil capacity of 40-45 pounds making it perfect for small restaurants, cafés, and even concessions that cook up a moderate amount of fried food but function with limited kitchen space. The Pitco 40C+ features a 14 by 14-inch cooking area with a 4-inch cooking depth that allows it to efficiently fry up to 72 pounds of fries an hour ensuring your production doesn't ever fall behind.
This fryer runs on natural gas and delivers 105,000 BTU/hr or 30.7 kW of power. High temperature stainless steel heat baffles mounted in the heat exchanger tubes provide the fryer with maximum heat and fast combustion at all times. In addition, the thermostat automatically maintains the selected temperature between 200°F and 400°F (93°C and 190°C) giving you perfectly fried food every time.
Long-Lasting Design & Superior Functions
Both the fryer's cabinet and tank are constructed completely out of stainless steel making it extremely durable and resistant to corrosion. The tank is welded with an extra smooth finish that makes cleaning it out simple. Adjustable 6-inch legs keep the fryer at the perfect working height as well as allow for a thorough clean underneath.
The Pitco 40C+ also incorporates important safety features such as a gas control valve and temperature limit switch that shuts off all gas flow automatically if the pilot flame is out or if the fryer temperature exceeds its upper limit.
The unit comes equipped with two twin-sized fry baskets so you can begin using it right away. A removable basket hanger let's you easily drain excess oil before serving.