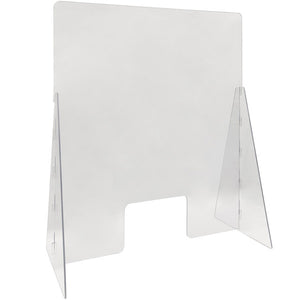 Easy Shield™ Customer-Service Panel
Easy Shield™ Customer-Service Panel 69792-36 Countertop Easy Shield 35" x 14" x 42"
PRODUCT IS IN HIGH DEMAND. PLEASE ALLOW 2-3 WEEK LEAD TIME
Adds a Health Component to Personal Customer Service
Provides a clear, sanitary-positive barrier at point-of-sale to improve health 

and safety, while preserving friendly, face-to-face customer interaction.
Simple design, as a countertop stand or hanging-ceiling version, makes assembly and installation extremely easy.
Highly stable, yet lightweight for convenient mobility from one counterspace to another, if needed.
Designed for Commercial Use
Manufactured of tough, durable, thick polycarbonate.

Easy to clean (with wipes approved for polycarbonate).
Scratch-resistant to preserve a clear, customer-friendly appearance.